Revealed:  Results For Plateau Local Govt Election Already Written By PLASIEC In Favour of APC, PDP Alleges  
Yakubu Busari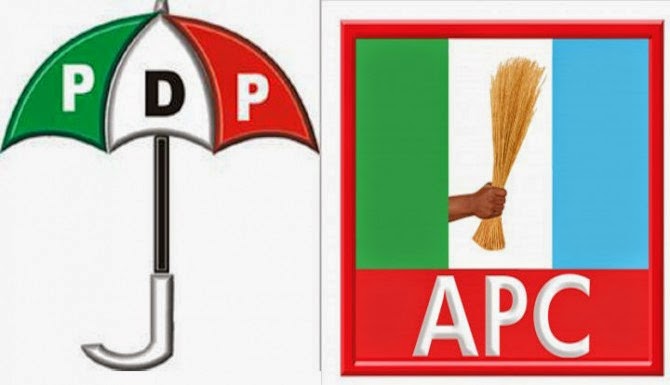 The Peoples Democratic Party, PDP, in Plateau state has accused the All Progressive Congress ,APC of secret plot to rigs the Local Government council scheduled for October ,2018 ,stressing , it is not comfortable with the motive behind the planned action by the Plateau State Independent Electoral Commission,  PLASIEC preparatory to the October, 10, 2018 local government elections.
In her press conference held on Monday in Jos revealed "We see no cause for excitement; there is nothing cheering; and we see no reason to engage in joyful celebrations in appreciation of this sudden change of mind on the part of government.
We see our democracy getting into more and more trouble, PDP Chairman raised alarm over alleged plan in the state.
The Party Chairman, Hon. Damishi T Sango in an address said "we see our Democratic tenets spiraling down the abyss under some unfamiliar and misleading appearance.
"A more circumspect assessment of this dummy sold to Plateau people has compelled us to address you this day.
"I now invite you to, please, take a ride with me.
"First of all, we see the advancement of insecurity as reason for the isolation as a well-crafted grand design to disenfranchise voters from these four local governments with a combined voter's population of over one million.
"It is clear that both Jos North and Jos South have never had any security challenges in recent times that would confer certification for postponement of elections for 'now'.
"Recently, while addressing the media on the security situation in the state, Major-General Ogondu, the Commander of Operation Safe Haven (aka STF) mentioned Bassa, Bokkos and Mangu local government areas as other flash points in the State, but did not include Jos North and Jos South.
"We are aware these three local government areas did not only experience attacks, but today have Internally Displaced Persons (IDPs) camps.
"We therefore, question the exclusion of these three local governments, while dragging in Jos North and Jos South, which were never mentioned by the Commander.
" We consider it absurd for anyone to use insecurity as a reason for isolating the four local governments in the forthcoming council polls when, time and time again, the Plateau State Government and it's functionaries have always utilised the slightest opportunity offered them to celebrate the return of 'permanent' peace  in the State .
"It is on record that while ushering in the Jos Carnival in May this year, the Governor's wife, Mrs. Regina Lalong, in her speech, said that the festival was, in itself, a testimony to the fact that permanent peace had returned to Plateau. She said, "That we are holding a carnival confirms that Plateau is stable; it is a clarion call to the whole world to come to Plateau and explore the massive opportunities it offers."
Governor Lalong, himself, while declaring the Jos Carnival closed, said the State is now a safe zone for investors to carry on their businesses without fear. We are today lost on the paradox at play, and are constrained to ask: how do you attract the same investors when you are using insecurity as a reason to isolate some council areas in the forthcoming election.
"Assuming we truly have security challenges in the named local government areas, does the Governor want the whole world to believe that it is practically inconceivable to go ahead with the elections across the length and breadth of the state without exception? Is it true that the situation is so overwhelming that security agents cannot guarantee free movement and protection of voters on Election Day as was the case in Borno State in 2015? "Are we being made to believe that it would be unsafe to conduct the 2019 general elections in the local government areas in question?
Well, it is no longer news that during the 2015 general elections in Borno State when insurgency was at its height, and where the APC polled 473,543 votes in the presidential election, most of the local government areas voted at the Internally Displaced People's (IDPs) camps in the State. How is it that today, in Plateau State, we are being told that the environment, including Jos South,  the seat of government and where people are going on with their lawful businesses, is unsafe for elections?
"Secondly, we are convinced beyond reasonable doubt that insecurity is merely being used to deny a people, largely of the Berom ethnic nationality, the right to exercise their franchise and determine who to govern them in a democratic setting. And this, we consider a clear demonstration of the height of Governor Lalong's hatred for the Berom nation who have been earmarked for political persecution and total displacement from their homeland, a fact he has never hidden.
"Thirdly, and closely linked to our second position above, is the fact that these isolated local government areas are known to be part of the PDP strongholds in the state where the APC will be most humiliated in a free and fair contest, and where it would be impossible for them to rig .
"We find the use of insecurity for leaving out the four local government areas pedestrian, and used only to cover the truth.
"Fourthly, and most disturbing is the fact that Governor Lalong and his ruling APC are desperate to hang on to power. And to perfect this evil plan,  they have found a willing horse in PLASIEC. Accordingly,  they have gone ahead to remove the Local Government Electoral Officers and their assistants, and replaced them with civil servants who are not permanent staff of the Commission and who are drawn from some state and federal establishments (we  have the details), an action which is not only a contravention of the electoral law, but criminal
"We are reliably informed that under this arrangement, elections results for the fourteen local government areas where elections would be conducted have already been cooked and only waiting to serve by the hatchet men (the newly recruited Electoral Officers and their assistants).
"We wish to warn, and sound it loud and clear, that this is a reveritable recipe for chaos in the state,  which shouldn't have been contemplated in the first place. "We, therefore, strongly advise that all peoples of Plateau State be allowed to exercise their rights as provided for by law.
"We wish to place on record our resolved to resist any attempt to force leaders again on the people of the state under what ever guise (be it through rigging or imposition of Caretaker Committees, as has been the practice since Lalong's inauguration as governor, in the four affected local government areas.
"As we caution on the need to avoid needless pains and further traumatization of our people, we wish to put Governor Lalong and PLASIEC on notice that we shall contest their evil action in court..
"As I draw this interaction to a close, may I use this opportunity to appreciate all lovers of democracy, friends of Plateau State and  people of goodwill who have been persistent in urging us to use our good offices, contacts and every legitimate means available to us to halt the reckless move towards the precipe by Governor Lalong and his agents. Let's resist all the enemies of our fledgling democracy.
"Finally, as I conclude, I wish to call on all Party faithful and the good people of Plateau State to remain calm and law abiding, while at the same time standing strong, resolute and resilient in the face of injustice, harassment, intimidation and even harm. Let's resist all the enemies of our fledgling democracy. Let's go beyond wanting to vote to understanding the issues playing out"