Exposed: How Managing Director Nigerian Bulk Electricity Trading Plc., Marilyn Amobi Allegedly Squandered Billions Of Naira, Harassed Staff With Police
The managing director/chief executive officer of the Nigerian Bulk Electricity Trading Plc., Dr Marilyn Amobi is in the news again for the wrong reasons, The Witnessngr.com is reporting.
She has been accused of flagrant disobedience to extant circulars and the desperation to allegedly amass wealth illegally thereby leading to her deployment of armed policemen with AK47 to harass and humiliate any staff who refuses to cooperate on her alleged illicit deals.
A staff who spoke on condition of anonymity confided in The Witness that some staff have petitioned the Inspector General of Police on the harassment being suffered from armed policemen stationed on the floors of the Bank of Industry building occupied by NBET at the Central Business Area, Abuja each working day. The policemen, we learnt, are being funded by NBET with taxpayers' money.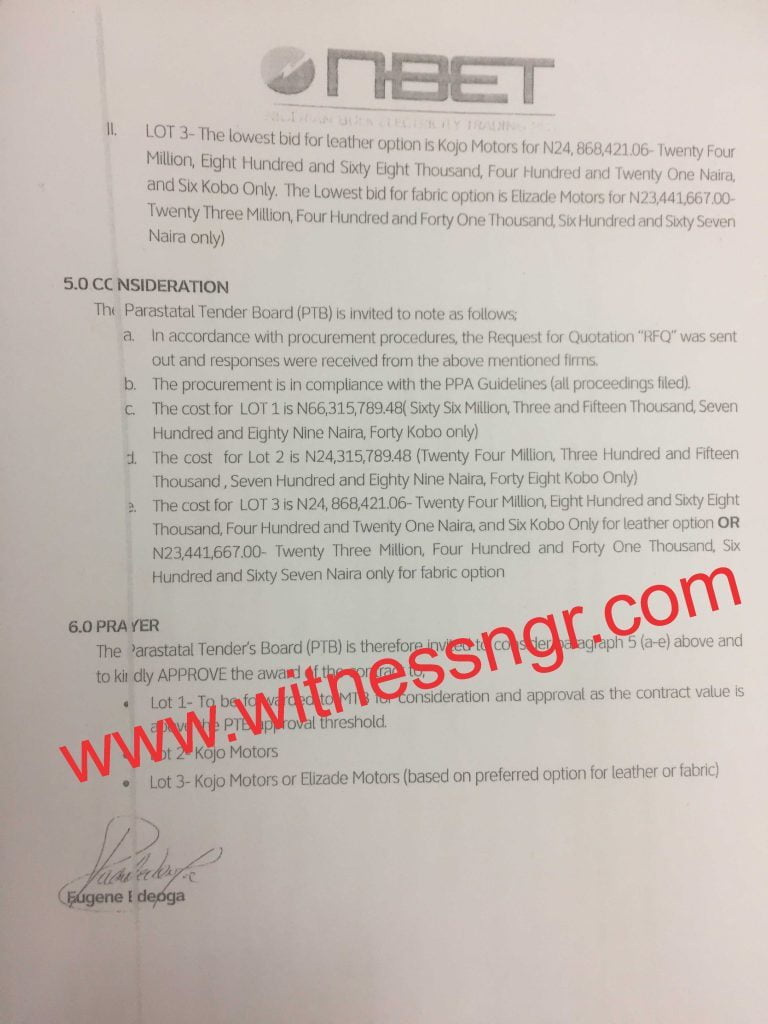 Dr. Amobi, The Witness gathered was said to have bought cars worth over N400million in the last one year without commensurate performance in collections from Electricity Distribution Companies, otherwise called DISCOS. Our source disclosed that all the cars and office relocation expenses in the 2017 budget worth over one billion naira were allegedly procured using over-invoicing, contract splitting to avoid being queried by either the Federal Executive Council or ministerial approval threshold as virtually those procurements were wasteful spending of public funds. More worrisome is the shocking revelation from Nigerian Electricity Regulatory Commission that the commission was prudent by transferring the vehicle used by the vice chairman of the commission to the newly appointed chairman of NERC so as to minimise wasteful spending of public funds.
The Witness authoritatively gathered that both the Independent Corrupt Practices Commission (ICPC) and the Office of the Auditor General of the Federation have swung into action aimed at unraveling the alleged massive corruption being perpetrated in Nigerian Bulk Electricity Trading Plc by its boss and her cohorts. A whopping sum of N102million contained in the 2018 budget awaiting assent under the heading of library is currently being sponsored by a foreign donor in addition to funding for provision of legal advisory services among others, these amounts of money are still budgeted for by NBET in the 2018 fiscal year. Investors and other stakeholders are wondering why Dr Marilyn Amobi appears untouchable and why pre/post consideration of NBET budget by the National Assembly are not subjected to scrutiny given all the atrocities she has perpetrated since her assumption of office.
However, Dr Amobi is not new to scandals. A training institute in Denmark attended by both staff and non-staff of Nigerian Bulk Electricity Trading Plc (NBET) has affiliate with the firm incorporated in Nigeria by Dr Marilyn Amobi.
Several hundred millions of Naira from capital budget and receipts from distribution companies are being used to fund all the illegal foreign training, The Witness learnt. Our source further divulged that Dr. Amobi is able to perpetrate the fraud using her company incorporated as ESL Economics and Management Associates Ltd with RC NO- 1025108.
The registered address of the company is Plot 604, Hunkuyi Close, Area 11, Garki, Abuja and has the first directors as Dr Marilyn Chikaodili Nwanneka Amobi and Dr Ifeoma Edna Amobi holding 80% and 20% share respectively. A certificate number 751030 was issued by the Corporate Affairs Commission for increase in the company share from 1 million to 20 million and the address was changed to 46, Lobito Crescent, Wuse 2, Abuja.
Upon the appointment of Dr Marilyn as NBET's MD/CEO, The Witness gathered that the NBET Chief resigned from being member of the board of directors but retained her shareholding of 80% in the company till date. Professor Erik Reimer Larsen who was responsible for the academic training programme in Aarhus BSS, Aarhus University Denmark regarding professional training programme is a partner in ESL Economics and Management Associates Ltd.
Another scandal was loading when on 28th of November 2017, a whopping N65 Million from public funds was alleged to have been spent by the Nigeria Bulk Electricity Trading Plc (NBET) under her for an 11-day trip to Gainesville, Florida, despite federal government's restriction on foreign travels and trainings abroad.
A circular conveying the message, titled 'Restrictions on Foreign Trainings and International Travels by Public Servants,' was issued from the Office of the Head of the Civil Service of the Federation to all ministries, departments and agencies of the federal government in 2015, placing an embargo on foreign travels and international trainings.
"Public servants invited for foreign training/study tour, conferences by any organisation, government or other bilateral/multilateral organisation will be allowed to travel provided that no travel cost, estacode application or any other cost on government is involved," the circular stated.
In defiance of the federal government's rule, Dr Amobi had given a directive to spend $96,350 USD of public funds for participation at the 43rd International training programme on the utility regulation and strategy held in January 15-26 2018 in Gainsville, Florida, USA, by members of the National Assembly committees on power.
A whistleblower had alleged that the National Assembly members did not attend the event, describing it as a shocking waste of tax payers' money.
The National Assembly members were Senator Eyinnaya Abaribe, (PDP Abia), Senator Adamu Aliero, (APC Kebbi), Senator Lanre Tejuosho, (APC Ogun), Senator Mao Ohuabunwa, (PDP Abia), Hon. Daniel Asuquo, (PDP Cross River) Hon. Mohammed Garba Gololo, (APC Bauchi).
Independent investigation revealed that an additional $7,200  was charged by the organizers of the training for each participant, revealing an additional N15 million tab by the Nigeria Bulk Electricity Trading Plc.
More revelations show that Dr Marilyn has unplucked wings because of her rooted relationship in the Ministry Of Power, Finance, National Assembly and the Presidency that she can do and undo. Our undercover journalist had earlier reported how N650million not included in the 2017 budget proposal submitted by Mr President to the national assembly found its way into 2017 appropriation tagged as office relocation wherein the current office being used by NBET is befitting enough.
The approved N650million was forcefully cash backed and has been syphoned. Reports had it also on how Dr Marilyn used the national assembly through house committee on power to publish public hearing notice on the dailies against her employer, disagreement erupted when the document given to Dr Marilyn for publication on Calabar PRG was tampered with before been published; the said public hearing was eventually swept under the carpet because of the betrayal of NBET boss. A clerk with the knowledge of the shoddy dealing informed us on the condition of anonymous that there was no evidence of neither approval nor payment for the publication of the public hearing notice.
Several reports on social media shows unethical dealings of NBET boss since her assumption of office till date and nothing was done to investigate those deals by the anti-graft agencies of the federal government due fear.
In line with The Witness investigative journalism practice, our reporter contacted Dr. Amobi for her angle to the allegations, but there was no response as at press time.