Yakubu Wuyep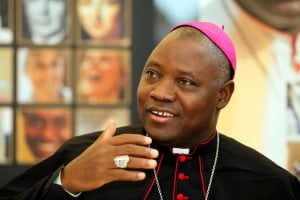 The Archbishop of Jos ,Most Rev Ignatius A.Kaigama has advised head of denominational churches in Plateau state to stop blackmailing Governor Simon Lalong ,as he urged political defectors to use the defections for the benefit of citizens not for negative change.
Kaigama disclosed this during the 16th General Assembly of the Catholic archdiocese of Jos held at Blessed Sacrament Church ,Jenta Mangoro in Jos .
The Archbishop used the occasion to warned politician to focus more on development of human capacity building and infrastructural development towards addressing the teeming youth unemployed Nigeria roaming the country seeking available jobs .
He refuted allegation that the administration of Governor Simon Lalong had nothing do with other denomination except the Catholic churches which he always offer money to them but Kaigama reiterated that he was very close to the former Governor Joshua Dariye and nobody see something wrong with that .
I want to tell the enemy of Plateau state Governor to understand that the Catholic church never discriminate anyone on the basic of tribes or religious ,pointing that he cannot go about begging for contract from government but to provide advice .
According to his  comments, defection has become a much used word in the lexicon of contemporary Nigeria politics ,many forget that it is a negative word ,how I wish it were all about a new breed of leaders who put people rather than themselves first.
He fingers that those politician should realize that those entrusted with political office and politician have dashed the hopes of most Nigerians ,adding after sixty years of independence and even with the years of our democratic practice.
Nigerians are being consumed by violence ,especially violence generated by hunger and youth unemployment ,I should be happier if defection could bring about healing the wounds of ethnic, political ,religious and terrorist acts or bringing about sincere reparation as in the case of Zacchaeus in Luke 19:8 who having realized he had cheated the people he was meant to served confessed to Jesus ,Says ,"I have give half of my belongings to the poor ,and if I have cheated anyone ,I will pay him back four times as much ".
" I pray that this time around our politician all over Nigeria will be kind enough to engage in only those things that can bring genuine development and socio economic improvement to the lives of Nigerians and above all ,peaceful coexistence despite political differences ",he noted.
He called on the new breed of politician to put the people rather than themselves to acquire wealth and causing crisis.